FYC – Exit Race "Welcome Race" – Sunday July 8, 12:00 pm
The format of the Exit Race is intended to attract new participants to FYC's racing fleet.
The racing format for this race is outlined below:
Welcome Race being held Sunday, July 8th
The Skippers meeting is on the Douglas Harbour wharf at noon (1200h) and the actual race event will start around 1300h. It's a staggered/Bermuda style start, so everybody starts by themselves at a predetermined time – slower or higher handicapped boats go first.
Generous handicaps applied to boats not normally racing (maximum golf).
Generous handicap applied to boats racing with non-owner helmsman (maximum golf).
Individual start times based on handicap so no congestion at the start line.
Two or three short races depending on the wind.
Come out and give racing a try.
"The art of the sailor is to leave nothing to chance."
Annie Van De Wiele
Here is the 2018 Race schedule in PDF format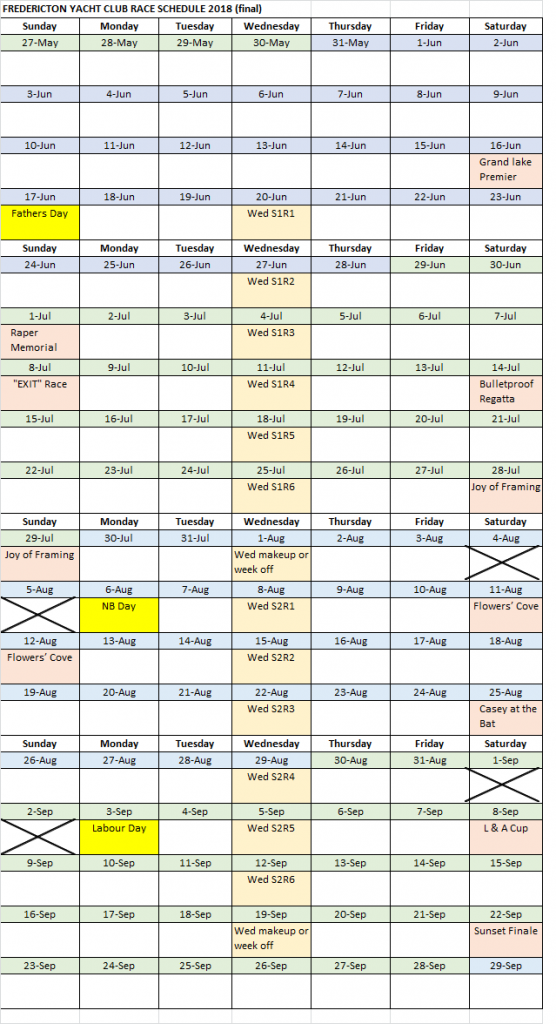 Here is the Local Wind Prediction:
The Fredericton Yacht Club is small, friendly club that services the boaters of Fredericton and the surrounding area. We support our membership and our guests with facilities in Fredericton and Douglas Harbour. We are a social, member operated, club that is perfect for new or experienced boaters.
We service cruisers, racers and day sailors with sailboats and power boats.