ATTENTION ALL MEMBERS
WORK PARTY – SATURDAY, SEPTEMBER 29 at 9:00 a.m.
We'll need people Saturday morning for yard cleanup.
Mike Laaper will have his large trailer there to haul away debris.
Members are asked to bring pruners or other tools to cut bushes and wood.
The work will consist of the following:
Cutting and loading knotweed, vines and trees on the inside of the fence in the northwest corner;
Cutting and loading growth along the shore-side of the lawn, upriver of the crib wall;
Loading branches that are piled on the lawn;
Cutting and loading some tree trunks left by the flood; and
Loading rotten blocking, horses, skids, lumber, tarps, etc., and other debris around the yard.
The work should take only an hour or so.
Thank You
Rear Commodores
Dear Members,
Last weekend invoices were emailed to members for 2019 Membership Dues and where applicable boat storage fees. Please note payment in full is due on or before October 1, 2018.
A reminder to lift group members, as per the Club's Yard Rules membership dues and storage fees must be paid and proof of insurance shown to your Lift Captain prior to the lift.
Thank you for your consideration.
Best regards,
David West
Commodore
Celebration of Richard Archer's Life
Dear FYC Members,
Hopefully everyone saw the invitation from Susan Shaw to a Celebration of Richard Archer's Life to be held in Douglas Harbor this coming Saturday (September 22). I just wanted to share a few more details.
The celebration will begin following the race (approximately 1530 – 1600 hrs). The meal will be a Pot Luck with BBQ'd hot dogs and hamburgers supplied by the club. Whatever you can contribute would be appreciated.
As well as Susan's and Richard's families and all FYC members, invitations have been extended to Richard's mountain biking, rock climbing and skiing friends. In order to accommodate everyone In the event of bad weather, we will have both the new dinghy storage building and the clubhouse available.
A bonfire and sing-a-long is planned for the evening. All musicians are encouraged to bring their instruments. In the event of rain we'll set the bonfire pit up by the entrance to the dinghy storage building and take shelter inside.
Please bring your own lawn chairs as we will not have enough in the clubhouse to accommodate everyone. Thanks
If you have any questions please don't hesitate to contact me. Hoping to see as many members as possible come out in honor of Richard!
David West, Commodore
2018
Here is the new June 2018 FYC Rules
FREDERICTON-YACHT-CLUB-RULES (2018)
Here is the 2018 Race schedule in PDF format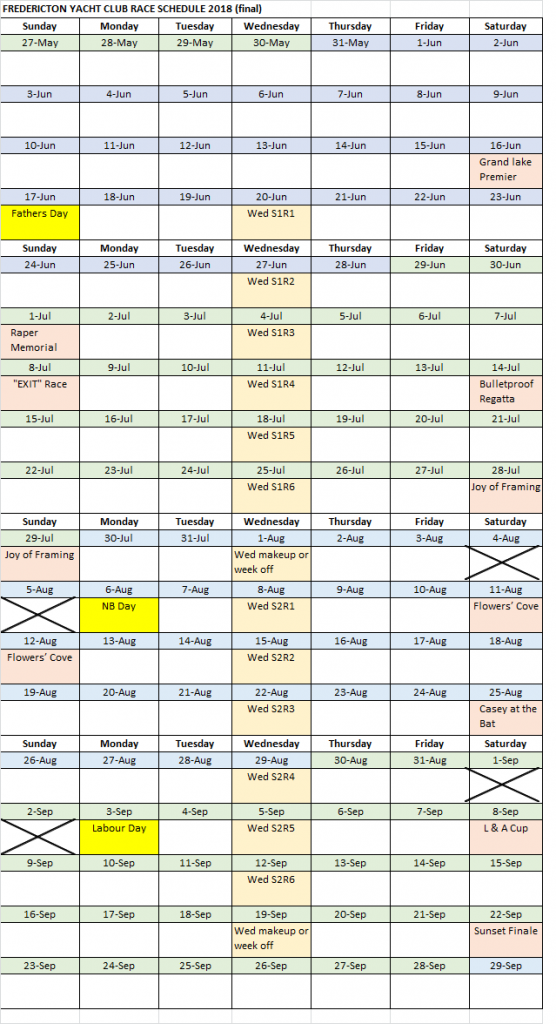 Here is the Local Wind Prediction:
The Fredericton Yacht Club is small, friendly club that services the boaters of Fredericton and the surrounding area. We support our membership and our guests with facilities in Fredericton and Douglas Harbour. We are a social, member operated, club that is perfect for new or experienced boaters.
We service cruisers, racers and day sailors with sailboats and power boats.