The Fredericton Yacht Club is small, friendly club that services the boaters of Fredericton and the surrounding area. We support our membership and our guests with facilities in Fredericton and Douglas Harbour. We are a social, member operated, club that is perfect for new or experienced boaters.
We service cruisers, racers and day sailors with sailboats and power boats.
Commencement of FYC's 2019 Racing Program has been postponed until Saturday, June 22nd.  So, no race this coming Saturday, June 15 or Wednesday, June 19th. The revised race Schedule is on the webside.
Antoinette for John McKinney
Signs of Spring: 
Halifax Boat Show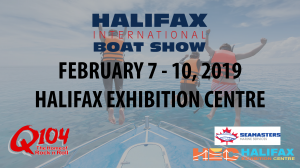 Moncton Boat Show
Annual General Meeting
Dear Members,
Owing to tomorrow's poor weather forecast and the Board's desire to maximize attendance, the Annual General Meeting is being rescheduled to Thursday November 29th at 1900. The location is still the Exit Realty Boardroom, 461 St Mary's Street, Fredericton.
I apologize for any inconvenience and hope to see many of you on Thursday evening!
Sincerely,                                                                                                                                            David West, Commodore
Notice of Annual General Meeting
To All Fredericton Yacht Club Members,
The Annual General Meeting of the Fredericton Yacht Club will be held Tuesday, November 27, 2018 in the Board Room at Exit Realty, 461 St. Mary's Street, Fredericton beginning at 1900 (7:00 O'Clock).
Respectfully,                                                                                                                                        Bill Walker, FYC Secretary
Moorings
Fellow FYC members,
Report on mooring activities at FYC – so far.                                                                                    – Earlier this year – a team of 4 members grappled and found 5 moorings not recently raised. Floats were put on to prep for the winter drop.
– Friday Oct. 19th                                                                                                                            McKendy, M. Stanley, R. MacGregor, and J. Kipping (thanks guys) moved some moorings to spread them from being too close.                                                                                             One chain broke (it was worn down to about 1/8 ") so we lost one block (until diver recovery).                                                                                                                                              This brings the previous accurate count of 51 down to 50. A guestimate of the total # of club boats using moorings is about 45, so we're still good on numbers.
– Saturday Oct. 20th workgroup.                                                                                                   After a late start (10:30am ) due to pontoon boat outboard concerns (cold start and an open choke) three runs were made as follows.                                                                                1. Upriver Inside String – 9 dropped.  Crew – R. MacGregor, L. Lee-White, D.Kubik, J. Kipping.                                                                                                                                                   2. Upriver Middle String – 8 plus the crib hazard buoy. Crew – D. MacKenzie, Ed Travis, Rod MacGregor, J.Kipping.                                                                                                                 3. Upriver Outside String – 13 dropped. Crew – Cliff Cull, J. McKinney, N. Knight, J. Kipping.
A big thanks to all crew! 30 of 50 moorings dropped in 4.5 hours so an average of 9 minutes per mooring.
Some observations.                                                                                                                                 – M. Stanley and M. Laaper  have provided 10 new cedar floats which improves visibility in the water of the string ends, and will improve spring mooring recovery and float avoidance on the water.                                                                                                                         – A lot of pennants were left on mooring floats. It would ease our work if these were removed by pennant owners promptly once boats are lifted and before the mooring drop. It is awkward and there is risk of snagging pennants in the mooring boat propeller when stringing the drop lines and we could do without that extra challenge. Recovered pennants from the upriver strings have been placed in the wheelbarrow at the shed.                              – Remaining 3 downriver strings.                                                                                                    We hope to finish the 3 remaining down river strings this week (20 moorings). 2 runs (and crews) should do it.                                                                                                                          Monday, Thursday, or Friday look likely for the current forecast.                                                Since your boats security in a blow will depend on your mooring, it's a good idea to know as much as you can.
Offer to come on a drop (Fall) or lift (Spring) trip and you might be surprised what you'll see and learn.
Just contact me to volunteer.                                                                                                         Jack Kipping                                                                                                                                          1-506-444-1550 (cell)                                                                                                                      Email jkipping@nbnet.nb.ca
Membership Dues
Dear Members,
Last weekend invoices were emailed to members for 2019 Membership Dues and where applicable boat storage fees. Please note payment in full is due on or before October 1, 2018.
A reminder to lift group members, as per the Club's Yard Rules membership dues and storage fees must be paid and proof of insurance shown to your Lift Captain prior to the lift.
Thank you for your consideration.
Best regards,                                                                                                                                    David West, Commodore
2018 Race schedule                                                                                                                FYC Race Schedule For 2018 (May 2, 2018)
 Here is the Local Wind Prediction:
The Fredericton Yacht Club